13 January 2023
Fraudsters are currently using a new scam to target our members, this time via text messages and phone calls pretending to be from Heritage Bank.
Cybercriminals are using "spoofing" software to make the caller ID or SMS sender name appear to come from a legitimate Heritage number.
This means that scammers may be able to set the sender name for phishing text messages as 'Heritage' or imitate Heritage phone numbers.
For text messages, fraudulent text messages can appear in the same conversation as legitimate messages from Heritage.
The scammers will claim to be from Heritage, contacting you about an issue with your account. They may ask you to transfer money, or to share sensitive information such as your PIN, password, or personal details.
This spoofing scam does NOT mean that Heritage systems have been breached in any way – instead, fraudsters have used software to impersonate Heritage.
Please see below for an example of scam SMS that may appear in a legitimate Heritage message thread.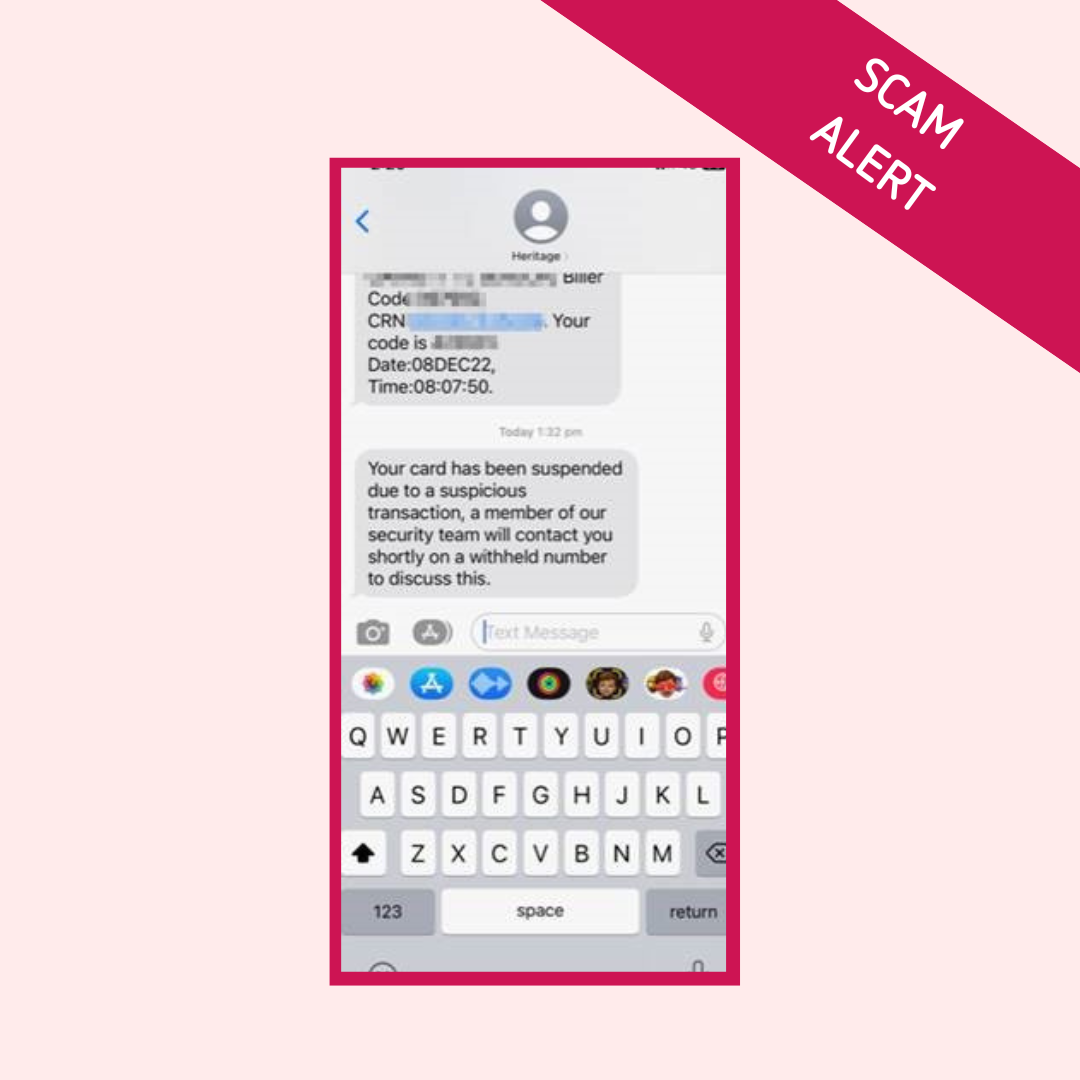 Important:
Heritage will never contact members and ask them to move funds to another account.
We will never ask you to reveal a One Time Password (OTP) to us – that is private and individual to you.
While Heritage may send information, or confirm receipt of items, by email, we will NEVER send requests for you to share personal security details such as your PIN, CCV number, internet banking passwords or credit card details.
ALWAYS check the authenticity of any unsolicited call, email or message. You can confirm if the communication is genuine by calling Heritage Bank directly on 13 14 22 or emailing info@heritage.com.au.
If you have been a victim of a scam, you can report it to the ACCC via the report a scam page to help protect others from similar scams. Visit www.scamwatch.gov.au/report-a-scam
If you are concerned about the security of your account, it's very important you change ALL your Heritage Online passwords and call us immediately on 13 14 22..
Share this link to help spread the word to your friends and family.