We've partnered with Prezzee to deliver Heritage Bank Smart eGift Cards. Instead of receiving a gift card to spend at a specific retailer, Smart eGift Cards allow the recipient to choose where they want to spend the value of their card. There are plenty of Australian retailers to choose from.
If you've received a Heritage Bank Smart eGift Card, you'll need to choose where you'd like to spend the money following these steps:
Step 1:
Check your inbox for your Heritage Bank Smart eGift Card
The email containing your Smart eGift Card will be sent from Prezzee on Heritage Bank's behalf. Sometimes these emails get sent to your junk email, so make sure to check your junk folder if you haven't received your card.
Step 2:
Open your Smart eGift Card by clicking the link in the email or scanning the QR code
A page will display which has your Heritage Bank Smart eGift Card. To use your Smart eGift Card, you'll need to swap the amount for a retailer gift card of your choice. The Smart eGift Card expires 3 years after the date of issue.
Step 3:
Click 'Swap it Now'
Step 4:
Select retailer gift card & value
Here you can select a retailer eGift card and the amount you would like to spend. Once the gift card and value has been selected, click 'Add Card'.
TIP: You can swap your balance for gift cards from multiple retailers, so long as the total value redeemed does not exceed the Smart eGift Card value. For example, you can use a $75 Heritage Bank Smart eGift Card for a $25 Wish eGift Card and a $50 ebay eGift Card.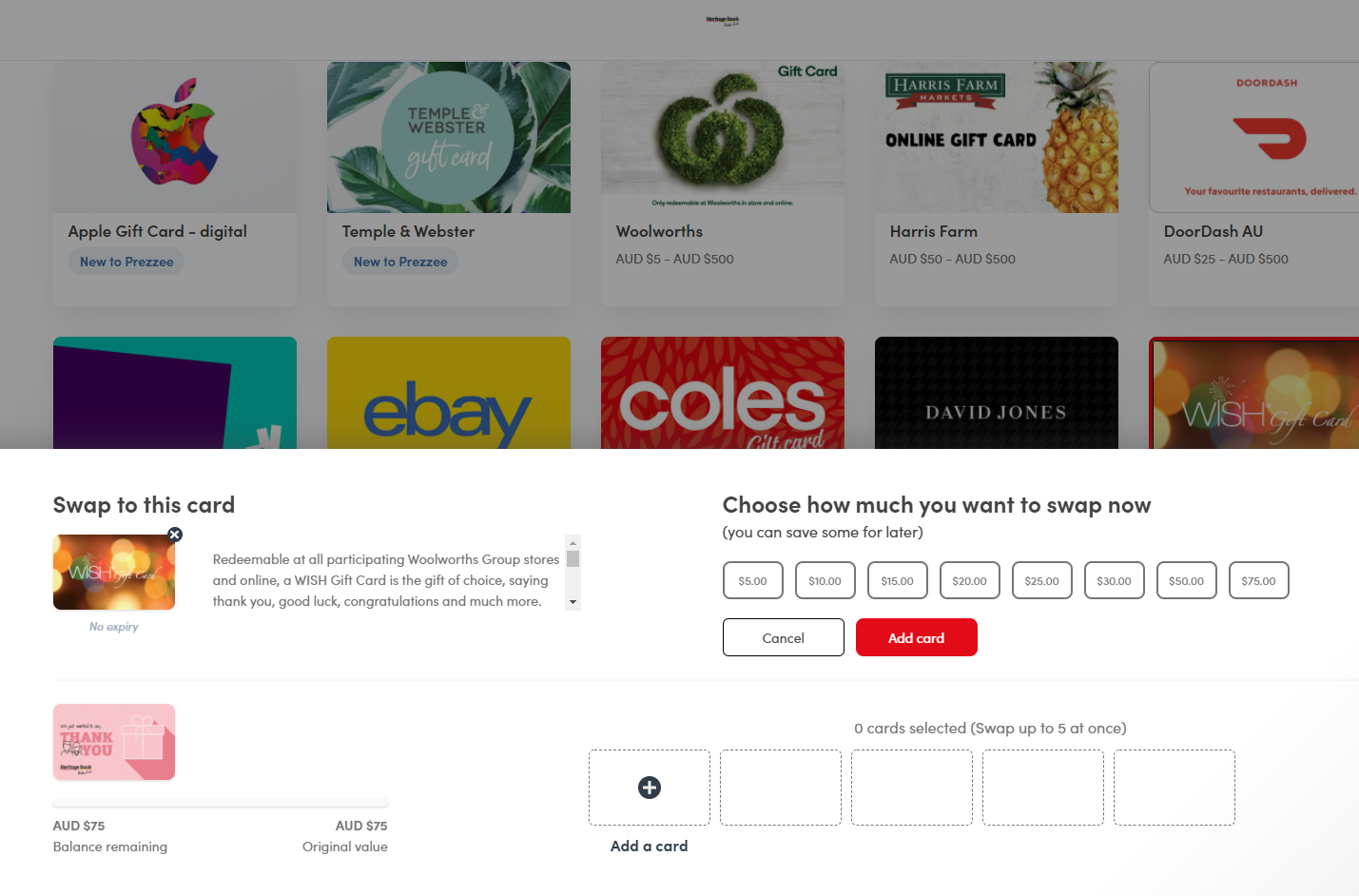 Step 5:
Confirm your selection
Please ensure you understand the conditions of the retailer's gift card before confirming. When ready, select 'Confirm Swap' then click 'View gift card' in the following screen.
Step 6:
View retailer's gift card
Click 'View card' next to the retailer to access the details and to use the gift card.
Here you have the option to:
View the retailer gift card number and barcode to spend online or in store;
Save your gift card to your digital wallet; or
Download and print your gift card.
Happy shopping!